Japan: Hike, Bike & Kayak
Booking Dates
07/02/2023 through 11/14/2024
Travel Dates
07/02/2023 through 11/17/2024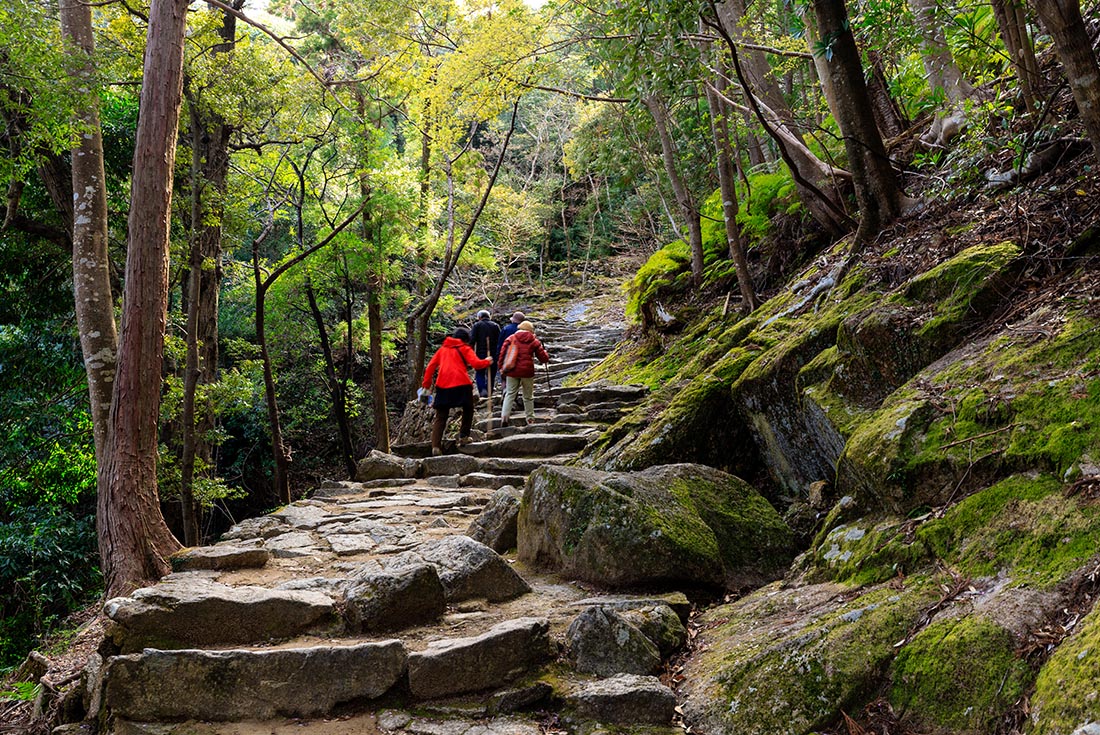 Japan: Hike, Bike & Kayak

Embark on an insightful cultural (and physical) workout with a 12-day active adventure across Japan's ancient history, religious sites and natural wonder. Beginning in Tokyo, leave the crowds behind for a hike through post towns dotted along the Nakasendo Way, then continue to the Seto Inland Sea for a biking and kayaking adventure along the Shimanami Kaido. Stop by historic Kyoto before tackling the mother of all pilgrimages along sections of the historic Kumano Kodo. With the opportunity to explore diverse neighbourhoods and experience real hospitality along your way, discover the secrets, past and present, of an enchanting Japan.

Activities
Tsumago – Waki Honjin
Nakasendo Trail – Magome to Tsumago hiking
Onomichi – Shimanami Kaido cycling
Ikuchijima Island- Sea Kayaking
Kyoto – Fushimi Inari-Taisha
Kyoto – Gion District walk
Kyoto – Ginkaku-ji (Silver Pavilion)
Kyoto – Mt. Daimonji-yama hike
Kyoto – Kyoto Cycling
Kyoto – Kinkaku-ji (Golden Pavilion)
Kyoto – Daitokuji Temple
Shingu – Kumano Hayatama Taisha Shrine
Kumano Kudo – Hiking
Kumano Kodo – Kumano Nachi Taisha
Toba – Mikimoto Pearl Island Museum
Osaka – Dotombori District walking tour
Highlights
Hike between the preserved post towns of the Nakasendo Way – reconnect with the Edo history on this ancient trail connecting Edo (now Tokyo) and Kyoto.
Discover one of Japan's best cycling routes – the Shimanami Kaido which links Honshu with Shikoku across the scenic Inland Sea – and enjoy a cycling and kayaking experience
Temple-hop through the historic city of Kyoto with a guided ride past some of the major religious sites in the city – a perfect active way to explore this ancient capital.
The Kumano Kodo is one of only two World Heritage-listed pilgrimage trails in the world. Hike a section of the ancient route, arriving at spectacular Nachi Falls and Nachi Taisha Shrine.
Never lose sight of the big cities of Tokyo and Osaka. With options to extend your travel before or after your trip, you can continue your fascinating adventure through Japan at your own pace.
| Day | Description | View All |
| --- | --- | --- |
| Day 1 | Tokyo | Details |
| Day 2 | Nakasendo (Hiking) | Details |
| Day 3 | Nakasendo / Onomichi (Hiking) | Details |
| Day 4 | Shimanami Kaido / Onomichi (Cycling & Kayaking) | Details |
| Day 5 | Kyoto (Hiking) | Details |
| Day 6 | Kyoto (Hiking) | Details |
| Day 7 | Kyoto (Cycling) | Details |
| Day 8 | Shingu/Koguchi | Details |
| Day 9 | Koguchi/Kii Katsuura (Hiking) | Details |
| Day 10 | Toba | Details |
| Day 11 | Osaka | Details |
| Day 12 | Osaka | Details |